Our Altavista Ford Service Center Keeps Your Car Running Safely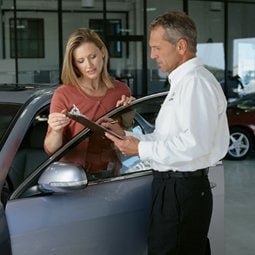 The main highlight of our Altavista, VA Ford dealer is our selection of new cars, trucks and SUVs, as well as our used vehicle lineup. But beyond our Lynchburg area Ford dealership selling you your next car, we offer a top of the line service center that's here to keep your current ride in its best shape. We're conveniently located, we make it easy to schedule service appointments online, and you'll find our technicians are specially trained to handle anything from routine oil changes to more involved repairs on brakes and other important systems. Sign up for your next service appointment, then visit our Ford dealership serving Forest and Rustburg today.
Nobody likes having to take time during their busy work week and spending more money on maintenance and repairs, but it's an important part of owning a car, and a smart way to sustain your vehicle's value. At Discovery Ford of Altavista we offer competitive pricing, as well as a number of service specials, so your costs will be kept down as much as possible, all while we take care of the things that will go a long way toward protecting your transportation investment. Routine visits for oil changes and inspections are obviously necessary at certain mileage intervals, but they also give our expert Ford technicians a look throughout your car so they can diagnose any current or upcoming issues that you might not notice yourself.
From there, you'll love leaving your car in the hands of these trustworthy and highly experienced Ford service professionals at our state of the art facility. We use the highest quality tools and equipment, and we're well-stocked with Genuine Ford Parts, so your exact model will have exactly what it needs if something requires replacing.
After scheduling your service appointment online, visit Discovery Ford today and learn how we can keep your car in its best shape.